We can provide an auxiliary generator on your existing engine so that you can reduce large onboard battery packs to a small maintained battery source. The auxiliary generator can power demanding payloads and allow your vehicle's operating time to be limited by fuel capacity alone.
1kW AC/DC Man Portable Generator
HFE International is working to convert a standard commercial off-the-shelf (COTS) 1kW generator to operate on heavy fuels. The unit will be powered by our Electronic Fuel Injection System. The unit, weighing in at less than 35 lbs, will be the first generator of its kind that can be transported by one soldier. The unit will be able to support dismounted operations, reducing the number of batteries that must be carried.
Features:
| | |
| --- | --- |
| Peak Load: | 1000 W |
| Rated Full Load: | 900 W |
| Operating Voltage: | 28 VDC |
| Start: | Remote Electric Start |
| Fuel: | JP8 |
| Weight: | 35 lbs. with pack |
| Noise Level: | 59 dB @ full load / 53 dB @ 1/4 load |
| Run time per tank: | 3.8 hrs @ full load / 8.3 hours @ 1/4 load |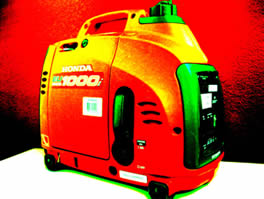 500W DC Auxiliary Power Unit

HFE International's auxiliary power unit is a very small JP8 powered 500W unit intended for use in manned and unmanned ground units to supply high powered payloads. This device is still in development. If you are interested in the unit please contact us.