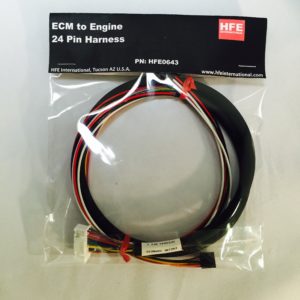 ECM to Engine Harness
The main wire harness between the engine and the ECM for the Desert Aircraft EFI system.
Product Description
This is the main wire harness that provides power to the throttle body assembly, the ignition, the crank sensor, and the cylinder head temperature sensor.  The harness also provides sensor feedback to the ECU for engine operation. The wires are protected with high resistant PTFE and ETFE jacketing and additional fiberglass sleeving, creating a tough harness that can handle the vibration and harsh environment of flight.
High temperature 300°F , abrasion resistant Teflon insulated wire

High temperature 1,200°F fiberglass insulating sleeve

26 inches long

Weight: 2.375 oz
Additional Information
| | |
| --- | --- |
| Weight | .15 lbs |
| Package Dimensions | 15.24 x 17.78 x 1.27 cm |